Sundance Awarded Documentary (Cinematographer / Film Editor)
René Sascha Johannsen filmed The Red Chapel in North Korea in 2006
and edited it first into a tv-series in 4 episodes for the Danish National Broadcast.
In 2009 it was picked up by Lars Von Triers company – Zentropa and René edited the series into a 90 min's feature.
The feature length film version of "The Red Chapel" was awarded
"Judges World Documentary Cinema Prize" at The Sundance Film Festival 2010.
René was also nominated for "The Golden Frog" at Camerimage 2010 for his cinematography.
The Film is available at American Netflix.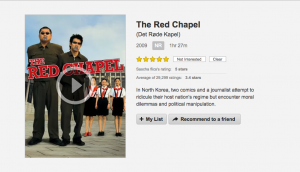 Links:
Original Site
Sundance info
IMDB