Lukas Graham in the US – DALI (6 ep's)
LUKAS GRAHAMS EPK for WARNER BROS almost works as a trailer for the series by René Sascha Johannsen.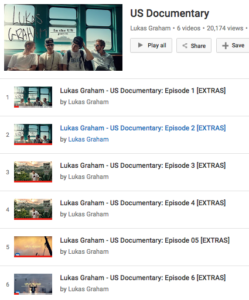 The series is a branded documentary on triple Grammy nominated Lukas Graham.
Dali Soundsystems gave René Sascha Johannsen free hands to follow up and close to tell the story
of Lukas Grahams adventures. From when the the band plays their first showcase in NYC to when 7 Years starts climbing the billboard ladder in the US and ends up being nominated at the Grammys for song of the year 2016.
There's so far 6 episodes and in an intense portrait we feel his pain from the recent loss of his father and follow his ups and downs in the studio, on tour and in the corporate music business.
Lukas Graham's first US single 7 Years dropped late 2015 and is now on top 10 charts all over the globe including several weeks of number 1 in England and 3 weeks of number 2 in the US.
LUKAS GRAHAM IN THE US – DALI LINK
LUKAS GRAHAM IN THE US – Original Link